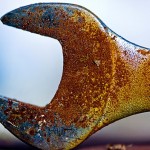 That older car of yours is starting to show signs of wear, and it seems month after month you're fixing something or other.
When should you call it quits and upgrade to something newer?
If you're frugal, you're trying to get every last stinking mile out of your car possible.  If you're like me with 4 kids, you think it makes no sense to get something newer that kids will destroy.  The body of my black 2000 Nissan Maxima (bought used with 50,000 miles in April of 2005) is in fairly good condition, the car looks decent, and I've taken care of it.  I've got 145,000 miles on the car and in the last couple of years I've had to replace several costly parts, including new tires for about $300, the alternator cost about $600, the new radiator last month cost another $500, and the exhaust system replacement cost another $300.  Not to mention, someone broke the lock last Thanksgiving breaking into my car (which cost $350 to fix).  Throw in other small items and the bill in just 2 years was over $2000.
Nearly every time a new bill came up I wondered to myself if it was time to buy something newer.
As an Accountant who has worked for various large manufacturers with multiple plants and millions in equipment, I'll share how we evaluate purchasing or replacing capital equipment and other big purchases.  I'll then help you better evaluate a potential large purchase or replacement purchase should your car breakdown, your roof starts leaking, your water heater starts giving you problems, or maybe your A/C is on the fritz and your unsure whether to pay for a service call or if you should go ahead and buy instead of taking a chance wasting money on a call.
Continue Reading