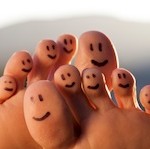 I'm sure you've heard of the show 17 Kids and Counting, then changed to 18 and 19 with new additions. Jim Bob and Michelle Duggar are expecting yet another child in April 2012.
That will make number 20 for the conservative Christian couple!
With two sets of fraternal twins, Michelle has been pregnant much more than the average woman.  They do not use birth control, instead, leaving their family size up to God.  With shows like Jon and Kate Plus 8 and the outrage Octomom caused, there are many people both intrigued and outraged at families the size of classrooms.
The Duggar children range in age from 23 years old to 23 months old, and there's even a grandbaby!  How do you fit that many kids in 1 house?  Every teen couldn't possibly get their own car, can they?  And how on Earth are they coming up with so many names that start with J?!
Continue Reading