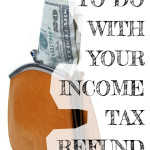 Tax day is finally past!
Whew!  Are you getting a big IRS income tax refund? It's always nice to get a nice chunk of change coming back to you!
But what will you be doing with your income tax refund?
I'm not always fond of looking forward to a large refund but they do happen and I know some people love getting them.  If you are getting a large income tax refund then at least put some thought into how you are going to use that money.
Having a little windfall in the bank is a great thing and when it's a sizable amount you can really make some differences with your finances.
I came up with some ideas for a large income tax refund.  I've broken it out into different sections to make it easier for you to find something of interest.  Here goes:
25 Ideas for Your Income Tax Refund