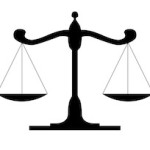 I was drowning in debt.
I managed to finally get my head on straight and start to really take care of my finances.  This after I already dug a hole with thousands in credit card debt.
I tried to do the right thing and pay off more than my minimum balance and tried to pay my cards (yes, more than one) on time every month.
I was living paycheck-to-paycheck in NYC in a small studio apartment.  Even though the place was small it took up a nice chunk of my monthly income.  I remember writing out those checks to the different credit card companies (this was before paying online was so easily available).
The beginning of the month would come and I'd pay my rent.  Then I'd get to the card bills.  I paid what I could over the minimum, with enough to still eat some kind of food, but it was killing me.  I was paying so much every month to my credit card bills but I was barely, if at all, putting a dent in my debt (my debt was earning some nice interest against me for the card companies).
Keep in mind I take full responsibility for my debt.  I made the purchases and dug the hole all by myself.
So I kept at it.  As my credit improved I started to see offers in the mail for credit cards.  One of them had a 0% balance transfer interest rate.  I applied and transferred over a balance.
Continue Reading