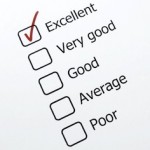 What Is A Credit Score?
You've heard that a credit score is important, haven't you?  You may have even heard how you should protect your credit score.  But a lot of people are still unsure of what a credit score actually is.
Let's take a look at credit scores and what they mean.  This way you know once and for all what they are and how they are used.
A credit score is a calculation based on information from a credit report which gives a representation of how credit-worthy a person is or how likely a person is to default on their loan.
Let's take a quick step back, shall we?  We're talking about credit scores but it's important to understand what a credit report is all well.  Your credit report is basically a listing of all the credit accounts you have and your history paying your credit, or debt, off.  Sometimes the report is referred to as your credit history.  The information comes from the lenders who report your activity to the three major credit bureaus.
To quickly sum up — your credit report gives information and a history of your credit accounts.  Now back to credit scores…
Your credit score gives a number range to quickly sum up the information from your credit report.