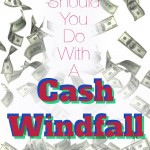 Quick—if you got a serious cash windfall what would you do with it?
What's a serious cash windfall?  That number is different for everyone but I think any amount that would make a significant dent in your life (or more).  I'm thinking an amount starting at $1,000 and going up from there.
It's fun to think about this question, not the least of which since windfalls do happen, at least from time to time.  And when they do come, it never hurts to have some ideas or a plan for what you'd do with it.  This way when the money comes you can act rationally.  A cash windfall is a great opportunity that you don't want wasted.
The way I see it, there are three basic choices—spend it, save or invest it, or use it to pay down (or pay off) debt.
Which you choose depends on your circumstances.
Let's take a look at three options for a cash windfall: