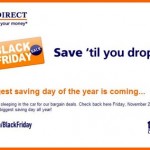 Black Friday isn't just for retail stores.
Capital One 360 is offering up their annual Black Friday specials this year from November 29th through December 2nd.
If you don't feel like going out and spending your money you can check out what Capital One 360 will be offering for you to save.
You know I've been an Capital One 360 customer for years and think it's a great place for online savings so I'm pretty excited to see what they are going to offer (we also use their online checking and their ShareBuilder investing site)!
Take a look at this year's "don't miss" Capital One 360 Black Friday sale: