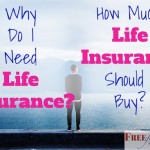 I think it's safe to say most people don't like the idea of thinking about life insurance.
It's a reminder that, after all, we're mortal and one day we won't be around anymore.  In fact the subject bothers some people so much that they don't even look into getting life insurance.
But you won't do that, will you?
To help make getting life insurance easier for you I'm going to tackle a couple of common questions when considering life insurance — why do i need life insurance and how much should I buy?
When Most People Start Thinking About Life Insurance