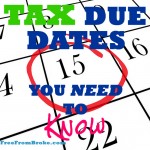 We're now into that time the year that accountants and other tax preparers refer to as "tax season."
For the rest of us it's panic season.
We scramble to get together our tax documents and hope that we won't have to pay taxes.
How many of you have filed your return the day it was due?  I'm raising my hand (not easy to type like that).
Stressful, isn't it?
Add to the stress the fact that not everyone files taxes the same.  Some are individual filers while others file as self-employed.  Corporations file taxes too (and they have a different due date).
But the tax deadlines aren't all the same in every case.  It's enough to make your head spin, wondering "when are the tax due dates for my taxes?"
Below you will find Federal Income Tax deadlines for 2014.  Use these due dates to your advantage and plan enough time to prepare your taxes before they are due. Continue Reading