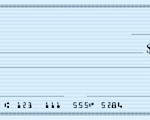 It's a sad time for online checking.  PerkStreet Financial will be closing its doors for good on September 26th, 2013.
"Who is PerkStreet," you might ask?
PerkStreet was (look I'm already using them in the past tense) an online bank that provided online checking accounts with fair fees.  And they weren't just checking either.  They tried to make checking online rewarding for their customer by giving cash back and rewards when you used your PerkStreet debit card for purchases.
Many people loved PerkStreet as an alternative to credit cards.  It's easy to rack up charges that are too big to pay off in full with a credit card (for some people).  With a debit card you can only spend what is in your account.  Using PerkStreet for purchases kept people accountable to their money — they couldn't spend what they didn't have.
Another aspect many loved with PerkStreet was their fees, or lack of.
They were part of an ATM network that had over 42k locations so it was pretty easy to find an ATM so you wouldn't get hit with fees for being stuck with an out-of-network ATM.  They also offered up online checking with no monthly fees and no minimums to open an account.
PerkStreet was a breath of fresh air in an age where brick and mortar banks have been slowly taking more out of customer's pockets with different fees.
But no more.
If PerkStreet is So Great Why Are They Closing?