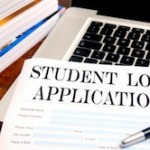 Every other week, it seems, we hear dire warnings about how much debt our college students are burdened with when they graduate.
Indeed, more than ½ of college students take out student loans, and the average student loan tab for a graduating senior is just over $25,000.  Coupled with a rough economy and a general lack of financial knowledge, recent college graduates are struggling financially like never before.
Yet, it hasn't always been this way.
Many of us just grew up knowing that student loans have, and will be, available, but that hasn't always been the case.
A Brief History of College Student Loans