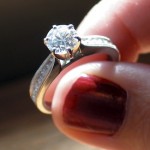 The summer months represent the peak of wedding season in the United States.
Every year approximately 2 million Americans get married (CDC), and they spend an average of $27,800 on their wedding (The Knot).
While Americans routinely decide to create their own customs such as the recent craze of choreographing a dance for the wedding party at the reception, we also follow customs that have been handed down through generations.  However, a closer look at how these customs came to be may free you to not follow tradition and save yourself some money.
Many of today's wedding customs are rooted in the fact that weddings used to be less about love and more about business.  Simply put, weddings were a business arrangement, and this can be seen through a variety of customs we still embrace.
Consider the following wedding customs: