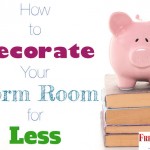 There are very few rites of passage bigger than the day a grown child moves out of the house and onto the college campus. 
This is the child's first major step toward adulthood and independence, and it can be an exciting time for both parents and children.
What is not so exciting is the expense of setting up new living quarters.
Whether college students live in the dorm or in an apartment, getting settled can cost a pretty penny.  However, there are ways to curb those costs.
12+ Money Saving Tips to Furnish Your Dorm Room for Less