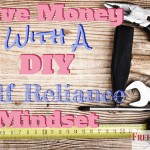 Although I live outside Chicago, our winters  in recent years have been decidedly mild. 
For example, in the 2012-2013 winter, by January 31st, we had only received 3.5 inches of snow TOTAL.  This year, winter was back with a vengeance.  By January 31st, 2014, we had received 48.5 inches total of snow for the winter.
Add in many days of sub-zero temperatures, and well, it's been a rough winter.
When we had a 50 hour stretch of sub-zero temperatures (one of those days had a high of -16 degrees), I knew that we should let the water drip to avoid having our pipes freeze.  However, when I went to take a shower, the water continued to just drip even though it was turned to full strength.  I called a friend who told me the pipes were likely frozen.  My husband set up space heaters in the basement where the pipes are, and within 5 hours, our water was flowing again.
That night, I saw on the news that we weren't alone.
Many, many people had burst pipes or pipes like ours.  I was surprised to see that some homeowners paid good money to have someone else come out to their houses and run a heater by their pipes to thaw them.
This situation just illustrates how far we've come from the do-it-yourself roots our grandparents and even parents had.  Now, we work hard at our jobs and call someone else to do everything for us.
Develop a Mindset of Self-Reliance and DIY and You Can Save Yourself a Lot of Money