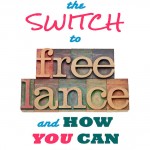 I majored in English in college. 
(Honestly, this is probably the worst decision I have ever made.  If I had to do it over again, I'd probably major in something more practical like journalism where I could still utilize my love of reading and writing.)
I went on to graduate school where I majored in English and Teaching English as a Second Language.  One year after I graduated, I snagged a job as a full-time English composition teacher at a community college outside an urban area.
In the beginning, I loved teaching even though the load was heavy.  I was expected to teach 5 classes a semester; each class had 28 students.  Each student had to write five essays during the semester.  That means I was grading 700 essays in a 16 week period.  These essays were each 3 to 4 pages long.
The load was heavy but manageable before I had children.  But when I had my son four years after I got the job, I started having difficulty balancing my work life with my home life.
By the time I had my second child four years later, I no longer enjoyed my job.
The quality of students was deteriorating.  The school hired full-time security guards to roam the halls because there had been so many problems with students threatening teachers and fighting in the classrooms.
Continue Reading