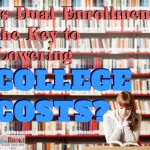 With the escalating cost of college as well as the heavy debt load many students graduate with, parents welcome any alternative that will help reduce the cost. 
As more and more people come to this realization, there are more and more techniques to help students graduate college more quickly with a minimal amount of debt.
One of those new strategies is taking college level classes while one is still in high school.
For years, high school students have been able to take AP (advanced placement) courses, and if they pass a test, they can often opt out of that class in college.  Some students could easily shave a year off their college education if they were very motivated and not daunted by the difficult level of AP classes.
However, now, some high schools are taking this a step farther.
High Schools That Encourage Dual High School and College Enrollment