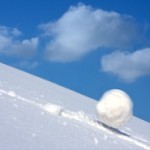 When you are young and of limited means, access to experiences can be few and far between — at least without debt.
But to some, experiences are so important that they'll head off on vacation in spite of mounds of debt.
One of the underlying characteristics of the "You Only Live Once" (YOLO) philosophy is that you should enjoy yourself now, before it's too late.  What happens if you fritter away all your young and healthy years without truly living, only to find that your golden years are taken up by infirmity?  All that money you scrimped to build a nest egg just goes to paying medical bills.
YOLO says that it's ok to be comfortable carrying a certain amount of debt, as long as you are pursuing great life experiences and enjoying the lifestyle you want to live.  In some cases, it's even ok to incur more debt in order to travel the world — as long as you can handle the payments.
How YOLO Can Become Problematic for Your Finances