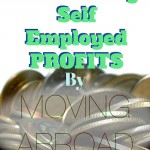 You might have had this happen:  You decide on a great business idea and launch your business.  You nurture it from the beginning, investing your time and energy into it.  You know you have a good idea, and business is growing.  But it's not growing enough to support you–yet.
If your savings is dwindling, what choice do you have?
Sure, you could throw in the towel and close up shop, but you know this business has potential, and every month business is steadily increasing.  You don't want to walk away.
Another more radical idea may be to move to an area with a cheaper cost of living. 
My husband and I have thought about doing this.  If we move away from the suburbs of the major city we're living outside of and move to a quieter area, my freelance money would go much further.
But what if you want to be even more radical?  What about moving out of the country? 
You could move to a country with a much lower cost of living than anywhere in the United States.  Not only would you be able to live off your business income, you'd be able to save, too.  When you move back to the United States, you'd have a nice cushion.
Sound tempting?
Making Your Profits Grow By Moving Abroad