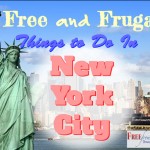 New York City.  The city so nice they named it twice!
Before I show you frugal, cheap, and free things to do and see in New York City let's look at the first paragraph from Wikipedia:
New York City (officially The City of New York) is the largest city in the United States, with its metropolitan area ranking among the largest urban areas in the world. Founded as a commercial trading post by the Dutch in 1625, it served as the capital of the United States from 1785 until 1790, and has been the nation's largest city since 1790. Located on one of the world's finest natural harbors, New York is one of the world's major centers of commerce and finance. New York also exerts global influence in media, education, entertainment, arts, fashion and advertising.  The city is also a major center for international affairs, hosting the headquarters of the United Nations.
Pretty cool, huh?
What is NYC?
First off I think we need to put some borders on NYC.
Most people think of NYC as Manhattan but you'd be doing a disservice to yourself if you only looked to Manhattan for things to do.
NYC is made up of five boroughs – Manhattan, Queens, Brooklyn, the Bronx, and Staten Island.  All but the Bronx are islands.  I tried to spread the love around the entire city as much as I could but don't be offended if I don't give every borough equal weight.
So here are Frugal And Free Things To Do And See In New York City (in no particular order):