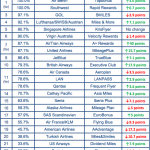 Membership has its privileges but cashing in on those privileges is another story.
If you're a traveler but you don't fly enough to get in to the extra special diamond, platinum, or other private group of the most elite airlines, you know that amassing frequent flyer miles or points is easy but using them to get a better seat or a free flight might be exceedingly difficult.
The problem is simple: airlines save money by offering fewer flights which means less seats available.
Even worse, when an airline merges with another airline, the amount of people in the frequent flyer problem doubles but often, the amount of flights taking off and landing doesn't.  More people but less seats doesn't make you happy.
Finally, if that isn't enough frustration, in order to make money, airlines sell points and miles to credit card and other companies to offer to their loyal customers.  Some of those people sitting in the first class seats that should rightfully be yours may hardly ever fly.  Go ahead and get a little frustrated!
Ideaworks knows how you feel and that may be why they conduct the Switchfly Reward Seat Availability rankings report (click here to see the report pdf.) Continue Reading