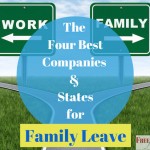 In our current environment of wage freezes and increased health care costs, one of the features that can distinguish a good company from a great company is the fringe benefits you receive.
While your wages may remain stagnant, fringe benefits can provide substantial bonuses and savings for your bottom line.
Unfortunately, one benefit that few companies have is a comprehensive family leave plan.
Of course, back in 1993, President Clinton signed into law the Family Medical Leave Act.  This act allows a new parent (either biologically or through adoption) as well as those with sick family members to take up to 12 weeks unpaid leave from their job within a 12 month period.  The employee is able to retain health care benefits, and they cannot lose their job.
However, not all companies have to follow the Family Medical Leave Act (FMLA) such as those with less than 50 employees.   Likewise, if the employee seeking to take FMLA has not worked for the company for at least 12 months and worked at least 1,250 hours in the past 12 months, the company does not have to grant the employee leave.
With these contingencies on FMLA, many, many employees fall through the cracks and find themselves back at work less than a week after they have a baby because they do not qualify for FMLA or they cannot afford to take an unpaid leave.
However, there are some companies as well as states that go above and beyond and offer their employees or residents better FMLA benefits than required by federal law.
As a working parent, these are the companies that you want to work for or states you want to live in.
Top 4 Companies to Work for With Great FMLA Benefits