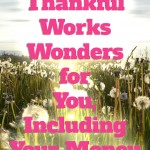 It's easy to lose focus when it comes to your money.
When you're struggling to get your bills paid, stressing over retirement, worried about the kids paying for college — it's a lot weighing on you and it can bring you down.
Even if you're doing well you can lose focus.
With more money comes more desire for more stuff — bigger house, nicer car, wider TV…you know the drill.
That's why gratitude is so important.
You need to appreciate what you have even if it doesn't seem like a lot.
How Practicing Gratitude Will Improve Your Relationship With Money (and Other Aspects of Your Life Too!)