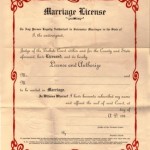 Many people enter marriage blindly, underestimating how minor annoyances they experience while dating can grow exponentially during marriage. 
While couples may argue about a variety of issues ranging from in-laws to child rearing to household chores, research shows money fights can be the most toxic to a marriage.
Jeffrey Dew at Utah State University analyzed data collected from 2,800 couples and determined that those who fought about money weekly were "30% more likely to get divorced than couples who reported disagreeing about finances a few times a month."  (The New York Times)
Many of us believe in the romantic ideal that love is enough to grow and sustain a loving marriage, but that is certainly not the case. 
While physical attraction is important, what is more important is your spouse's ideals and convictions, and how closely they are in line with your own.  If you are a saver and you willingly enter marriage with a spender, be prepared for routine conflict, and perhaps divorce.
Jan Dahlin Geiger, a financial planner in Atlanta states, "'Overspending is no different than being an alcoholic or drug addict' in its effect on a relationship.  'What one person is doing could have a huge negative impact on the couple's finances'" (USA Today).  Likewise, spenders may hide their purchases from you and incur debt you do not know about.

Of course, overspending is not the only financial problem couples might face. 
Continue Reading