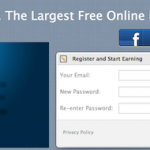 We are in gazelle intensity mode paying down our debt, and one of the ways that we can still give our kids a nice Christmas without spending a lot of money is through Swagbucks.
I simply search the Internet as usual using Swagbucks as my search engine instead of Yahoo! or Google; occasionally I will be rewarded with Swagbucks (usually ranging from 7 to 79 points per time).
What Is Swagbucks?
Swagbucks is an Internet search engine.
You can use it much the same way you use Google or Yahoo.  However, as you are searching, you are sometimes rewarded with Swagbucks.  These Swagbucks can be redeemed for gift cards or other prizes.
I have won anywhere from 7 to 79 Swagbucks at a time, and because I frequently need to search the Internet as a freelance writer and blogger, I usually win Swagbucks several times a day.  All of the Swagbucks I win accrue until I decide to redeem them for a prize.
What I like is that I am getting rewards for doing something I would do during my day anyway—search the Internet.
How to Sign Up With Swagbucks