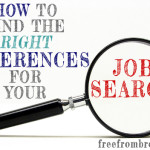 Anytime you search for a job, there is a good chance that you will have to provide references to the hiring manager.
Potential employers want to talk to people who know you, and who can provide insight into your abilities and strengths.
Choosing the right references for your job search is about more than just providing a list of names to a potential employer.  If things get serious, the hiring manager is likely to follow up.
Do you know what your references will say about you?
Here's How to Go About Choosing the Right References in Your Job Search