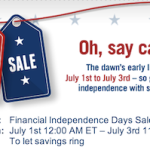 Happy Birthday U.S. of A.!
In order to help celebrate the nation's independence Capital One 360 put together some deals to start you on your way to financial independence.
Long-time readers of Free From Broke know that I've been a fan of these accounts for a long time.  You may remember that Capital One bought ING Direct USA.  I opened my first ING account over ten years ago.  I have savings, checking, and investing (via ShareBuilder) with them.
I originally opened up an online savings account so I'd have a place that was out-of-sight-out-of-mind to start building up some savings.  I wasn't having the best of luck when my savings was tied to my brick-and-mortar bank.  It was too easy to pull money out so I never really got far saving.  By having the money in an online account it put up enough of a psychological barrier that I would leave the money alone to add up and grow.  Ten+ years later and my wife and I have built up a nice safety net for ourselves in that account.
Back to the deals…
Capital One 360 Financial Independence Days Sale – 2013