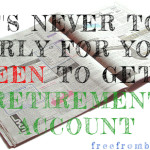 Generally, retirement is something that middle aged individuals are concerned with, not teens.  
Teens may feel like they have all the time in the world, while their parents hear the ticking countdown to retirement.
Parents can no longer change the fact that they probably didn't contribute to their retirement at a young age, but they can help their children learn about retirement planning and contributing earlier rather than later.
This discussion can start with the teen's first job.
There are Two Primary Ways Teens May Be Able to Start a Retirement Account: