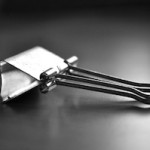 Even as you gather your documentation to prepare your 2012 tax return, it's time to look ahead and begin planning your tax situation for the next tax year.
One of the things to consider as you plan for this year is the new option for taking the home office tax deduction.
There are a number of tax-deductible business expenses that you can claim with your home business.  One of those is a deduction for the cost of the space you are using in your home.
If you plan to take the home office tax deduction, you are required to fill out Form 8829, which consists of 43 lines and can include depreciation and carryovers of deductions you haven't used.  In some cases, the IRS even acknowledges, figuring the deduction can be a bit complex.  Plus, if you make mistakes on this form, it can red-flag your return for an audit.
Recognizing that home offices are becoming increasingly popular for the growing number of self-employed taxpayers, as well as for telecommuters, the IRS has released an optional method of claiming the home office tax deduction.  It comes into effect this year, in 2013, so you will be able to claim it (if you choose) early next year when filing your 2013 tax return.
New Option for Claiming the Home Office Tax Deduction