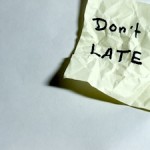 The most important aspect of your credit score is your payment history.
As a result, a late payment can have a profound impact on your credit history.
That late payment is recorded on your credit report, and the information in your credit report in turn influences your credit score.  And, since your payment history accounts for 35% of your credit score, a late payment can make a big difference.
But how late does a credit card payment have to be in order to be considered late?  Will your credit score really be dinged if you are one day late?
The answer depends on your own behaviors, as well as the policy followed by the creditor in question.
When is a Payment Late?