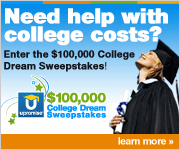 From now until August 31st, 2010, Upromise has a sweepstakes going where ten lucky people will each get $10,000! This is part of their 3rd annual $100,000 Upromise College Dream Sweepstakes.  In order to enter you need to join Upromise and download their TurboSaver, an online savings reminder tool.

Upromise is a way to earn extra money for college.  When you make qualified purchases through participating retailers, Upromise will return a portion of your purchase into an account for you which can be used in a 529 plan, for student loans, or to help pay student expenses.
Get more details about Upromise here.
And now for some great personal finance links:
Regarding Your Finances, Remember, You're Not a Kid Anymore at Money Crashers.
Complaining About Money Won't Make You Richer from The Financial Student.
Organizing 101: Filing Your Bills Neatly by Saving Money Today.
Adjusting to a New Mortgage Payment at Rainy-Day Saver.
Lacking the Shopping Gene or Naturally Frugal from Tight Fisted Miser.
The Things We "Need" by Northern Cheapskate.
The Cost of Inattention at MoneyCrush.
Should You Roll Your 401(k) to an IRA? from Personal Finance By The Book.
Get Rid of Credit Card Debt: 13 Tricks You're Not Using by PT Money.
dumbing it down at brip blap.
Does Embarrassment Prevent You from Saving? from Ace of Wealth.
How to do original research by Early Retirement Extreme.
Ugh Overdraft! at Personal Finance Journey.
Cashier's Checks and Money Orders from Sweating The Big Stuff.
6 Ways to Conserve Water and Save Money This Summer by Family Balance Sheet.
Do You Know Where Your Bills Are? at Canadian Finance Blog.
Roth IRA Rocks: 6 Reasons Why from Well Heeled Blog.
Investing For Retirement: How To Retire In A Bad Economy by The Digerati Life.
10 Things I Want… But I Want an Emergency Fund More at The Saved Quarter.
How who you know affects who you are from Pop Economics.
How to Raise Your Credit Score and Keep it High by Personal Dividends.
Is It Better To Buy Or Rent? [Infographic] at Moolanomy.
Double Your Money and Make It Stack: Spending Your Bonus from DINKS Finance.
3 Reasons Why Your New Business Won't Succeed by Studenomics.
And the carnivals Free From Broke has taken part in:
Carnival of Personal Finance #260: Forces of Nature Edition • Rainy-Day Saver.
Carnival of Personal Finance #262: 80s TV Edition.
The Yakezie Challenge Carnival | youngandthrifty.ca.
Wisdom Distilled from the Top: A Yakezie Carnival | Invest It Wisely.
Carnival of Financial Planning – Edition #147 – June 25, 2010
First Yakezie Milestone Carnival | My Journey to Millions