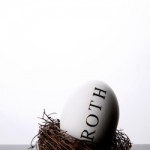 Withdrawing money from your retirement account is something you only really want to do in retirement.
That's obvious.
What is also obvious is there are definitely times in life when you find yourself with a significant cash crunch and that nest egg looks ripe for the harvest.
Unfortunately for a majority of your retirement account options any early withdrawals are disastrous.
You get hit with fees and taxes; your overall withdrawal can easily be reduced by 25-40%… which means you just have to withdraw even more money to get to the amount that you actually need to use.
It's a lose-lose situation: you're paying a lot in fees and taxes while also losing out on potential growth of the account in the future.
…unless you're using a Roth IRA.

Withdrawing Money from a Roth IRA