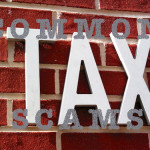 It's tax season which typically means hours gathering your data and slogging through the year's records. 
Most don't look forward to tax season, but the usual tax time headache can get even worse if you're the unfortunate victim of a tax scam.
Every year, there seems to be more ways scammers find to rob you of your tax refund.  According to CNNMoney, nearly 2/3rds of Americans get a tax refund, and the average refund in 2011 was more than $3,000.
With that kind of money at stake, it's no wonder scammers continue to find creative ways to get their hands on your cash.
As you prepare to file your taxes this year, be aware of these four common tax return scams: