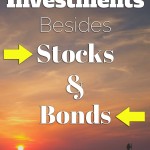 What do you think of when you think of investing?
If you're like me the thing that comes to mind are stocks. It's the standard isn't it? When you watch the news you hear about the Dow and the S&P 500. These are the stock indexes, or the 'market' you hear about.
As you know it's easier than ever to invest in stocks.
It used to be an investment for the wealthy but today you have low-cost online brokerages where you can buy stocks with virtually no minimums. You can even buy fractional shares (yes, you can buy a part of one share of stock.)
But stocks aren't the only investments out there. You have an ever-growing choice when it comes to investing your money.
Investing is the most democratic it's ever been. The ultra-wealthy will always have options that 'every man' can't afford to get into but there are services out there that are helping bring the masses to investments that were once reserved for the wealthy.
These days you can be your own bank, be an angel investor, and even put money into a hedge fund.
Your road to financial freedom is bridged with a number of alternate investments.
Read on as I go into six better known alternate investments…