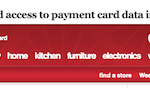 You head out to Target to pick up a few things.
Maybe you were taking advantage of some great Black Friday sales.  Perhaps you needed to re-stock after Thanksgiving.  You could have been doing your holiday gift shopping.
Nothing out of the ordinary, right?
Except if you used your credit or debit card then your credit or debit account may have been breached!
You may have heard on the news how Target was… well the target of hackers that compromised the Target credit and debit card database.
Keep reading and I'll fill you in on what happened, whether you need to be concerned, and what you should do about it.
Everything You Need to Know About the Target Credit Card Data Breach