Isn't it annoying when you look at the requirements of checking accounts of many traditional/brick and mortar banks?
They say they have free checking but you have to fulfill a maze of requirements: have a direct deposit with them, have a account balance of at least X for the month, stay under X transactions… It's hard to keep up!
So what options are out there?  Free online checking accounts!
As technology and the internet have grown, companies have stepped up and recreated the wheel, so to speak.  A number of banks have introduced free online checking accounts that are easy to use and full of features.
And because these companies are online and don't have to manage physical bank locations, they can offer their customers more benefits such as higher interest rates, cash back rewards, and free services like bill pay – all nice bonuses in addition to a free online checking account.
Here are some of the best, innovative, and popular free online checking accounts around (including one that I use):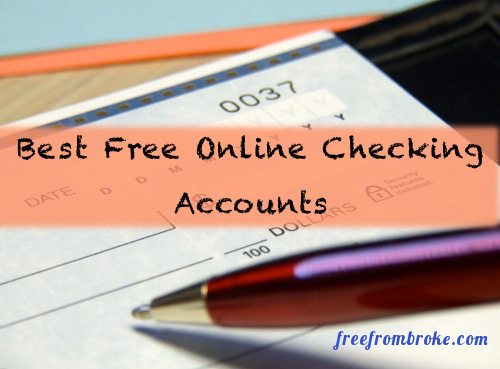 This is a free online checking account that I have and use.  I've had an account for years now (from way back when they were ING Direct) and have savings, checking, and investing (via ShareBuilder) through them.  Their customer service is awesome.
The 360 Checking account will earn you interest on the deposits you have.  While not as high as Everbank, the rates are still higher than many savings accounts and most checking accounts.  Their rates are tiered by three levels ($0-49,999.00; $50,000-$99,999.99; and $100,000 up).
360 Checking also offers a free debit card with access to over 35,000 ATMs.  True story – After we signed up for 360 Checking (formally Electric Orange) we discovered that there were more ATM's available to us than what our National, brick and mortar bank offered!
Free online bill pay is available to all customers and they will mail out paper checks for you, if needed (saves you on postage).  They also have a neat feature that allows you to make Person2Person payments to anyone other bank account.  If you owe your friend a few bucks you can send it to his checking account.  If he's a Capital One 360 customer the transaction will be instant.
Capital One 360 Checking has also recently started to offer checkbooks for their customers so you can send out physical checks yourself.  Some people feel more secure doing the check writing themselves.  The cost for the checks is quite reasonable and much less than what most brick and mortar banks charge.
What I like about 360 Checking is that it fits nicely with my 360 Savings account.  If I need cash from my savings account I can transfer it to my checking and get it from an ATM.  Or if I know I'm going out shopping I can transfer enough to my checking to cover it and use my debit card rather than put more expenses on a credit card.  Their site is also easy to use and understand.  Even better is when I can transfer on the go through their phone app!
I think 360 Checking makes a great checking account for those that have 360 Savings or anyone else looking for a good all-around free online checking account.
Note:  Capital One 360 Checking is the former Electric Orange from ING Direct (Capital One bought ING Direct's U.S. business).  I loved my ING Direct accounts and from what I have seen so far Capital One has kept all the great features and customer service that made ING Direct great.
Visit 360 Checking for more information and to sign up.

To open a free online checking account with PerkStreet you need only $25.  After that there are no account balance minimums.  You receive 2 free checkbook sets and debit card after you sign up.
The real incentive to use PerkStreet is the generous cash back rewards when you use their debit card to make purchases.  On average you will earn 1-2% on purchases depending on your account balance. You will also get weekly emails for rewards deals up to 25% at retailers, both online and in-store, right to your inbox.  Your rewards can be redeemed for statement credit or towards gift cards to use at retailers.
There is a wide ATM network available (over 37,000) that is free to use and the account also provides free online bill/pay.
If you are looking for an alternative to using a credit but still want rewards then PerkStreet can be a great option for you.
Check out my PerkStreet Financial review.
Visit PerkStreet Financial to sign up or for more information.
USAA checking comes from the United Services Auto Association.  They generally provide financial and insurance products to military members and their families but they have a number of products, like checking, that are available to the general public.
Their free checking account has over 60,000 USAA-preferred ATMs that you can use free.  They will reimburse you $15 in ATM fees charged by other banks and not charge you for the first 10 ATM withdrawals.
You also won't have a monthly maintenance fee to worry about.
If you have a UPS center nearby you can Easy Deposit your checks there.  There's also unlimited Web BillPay so you can take care of your bills without needing stamps.  And their phone apps makes managing your money even easier when you're on the go.  You can also get text alerts when there is any suspicious activity on your account.
I have to say, any time I've heard of someone who uses USAA products they absolutely glow about their customer service.
Visit USAA Checking for more information and to sign up.

Everbank has a Yield Pledge promise – the rate you earn on their checking account will always be in the top 5% of competitive rates on the market.  So while most checking accounts offer no interest, with Everbank you will get one of the best rates out there.  In fact, your rate will be even better for the first three months you have the account (with a rate higher than many savings and MMA accounts).
But this account isn't for those with just a few bucks to put away.  The minimum to open an account is $1,500.  Their rates are tiered based on how much you have in the account (so the more you have on deposit the better your rate after the 1st three months).
For months where your balance is above $5,000 you are eligible for free online bill pay and free ATM reimbursements for ATM fees you pay (this can be very helpful if you find yourself using all kinds of ATMs or you don't want to worry about finding the correct branch).
Another interesting aspect of Everbank is the availability of online check deposits.  With a high-speed connection and a scanner you can deposit checks from the comfort of your home!  They also offer mobile banking.
If you are looking to earn a higher interest rate on your deposits and you have the money to deposit, then Everbank can be a great option for you.
And check this out – Everbank is so confident that you will like your account that they offer a $50 satisfaction guarantee!  Try out their Yield Pledge Checking account for three months and if you aren't completely satisfied they will send you a check for $50.  To qualify (should you feel you really want to close your account), you must use their online bill pay feature at least three times and you must notify Everbank that you will be closing your account and why within 30 days of your 3-month account opening.
See our Everbank Online Yield Pledge Checking review.
Visit EverBank for more information and to sign up.
Ally Interest Checking Account

Ally has zero monthly fees, zero to open, and zero minimum balance.  They offer free online bill pay and free unlimited check writing (yes, there are banks that will charge you to write checks on your account).  Ally also offers free unlimited checks you can order from them.  You also get a debit card to use and ATM fees will be reimbursed for any ATM's that charge you (yes, free ATM's).
Ally offers interest on the deposits you have with with rates that vary depending on the amount on deposit.
One feature that's really nice with Ally is their eCheck DepositSM.  Rather than heading out to deposit a check, you can now scan a check and send the image online for deposit.  Just scan the check, upload it, and submit and you're done.  I love getting check but it can be a pain to run out, usually with the kids, to deposit it.  The eCheck Deposit option means depositing check from home.
Ally looks like a good, free online checking account with nice perks like free checks and free ATM's.
See our Ally Bank online checking review.
All of the above checking accounts are FDIC insured.


Free Online Checking Accounts - Why Pay More Fees Than You Have To

,