Have you ever realized you had a bill sitting around that was due today? Or worse, yesterday?  If you are lucky you can pay the bill online but that's not always an option (I've found that some companies have a cut-off time).
There was a time when I had a lot of credit card debt.  Digging out of it was tough but what made it harder was paying late fees because I would miss the credit card due date by a few days or so.  There was just about nothing more frustrating than looking through your bills and realizing one was already past due!
I definitely needed a bill/pay calendar system that would work for me!
So how can we avoid paying bills late?
You can pay the bill immediately.  But if you are like me you would rather keep the money in savings for as along as possible or you budget in such a way that certain bills get paid with different paychecks.
You can write the date you need to pay the bill on the envelope.  I do this.  Usually this works great.  Problems occur when you don't notice the date or forget to keep up with the bill.  That happens to me too!
So what's another fail safe you can use?
I've been experimenting with Google Calendar to set up reminders to pay my bills on time!
When I get a bill I open it up and check out the due date.  I then determine when I have to actually pay the bill to make sure I meet the due date.  For example: If I have to mail a bill I give myself about a week.  For online bills I pad a few days before the due date.  If I need to transfer money I give myself about a week too to make sure the money gets transferred over (I keep my savings in my Capital One 360 Savings account).
Next I write that date on the bill.  That's one fail safe.
The real useful fail safe is Google Calendar.
I take my bill and log onto my account, go to the day I need to pay the bill by, and write in a reminder that gets emailed to me when it comes up.  Since my cell gets email it's like an extra reminder since it's on my phone and my computer!
Let me show you how I set up Google Calendar as my Bill/Pay Calendar:
Log onto your Google Calendar and open up the month for your bill due date:
Continues After Advertisement
---
---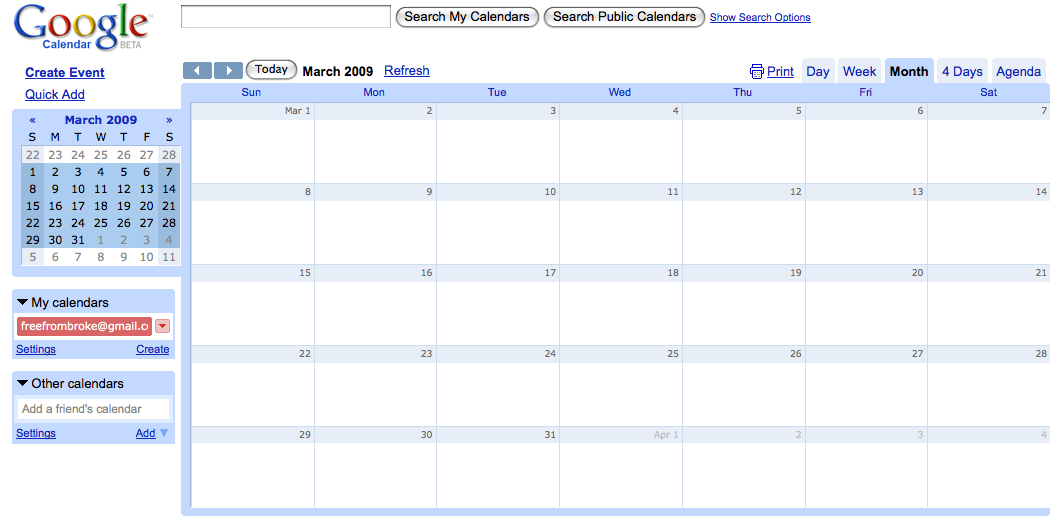 Click on the day you need to pay your bill on, enter the bill name, and hit "edit event details":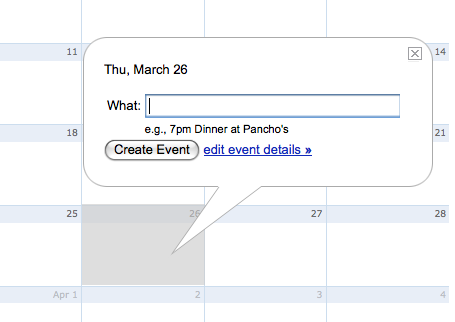 Enter the details (date; what the bill is; whatever you need):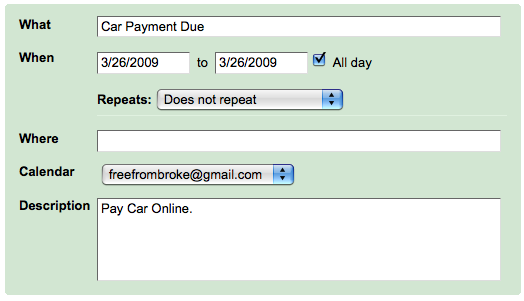 Click on Options: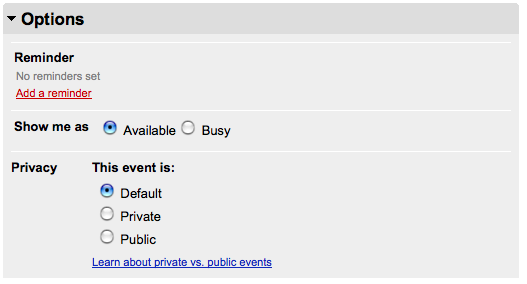 Here's an important part – Click Add a Reminder.  Set the reminder to Email (this will send you an email reminder):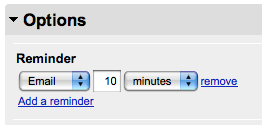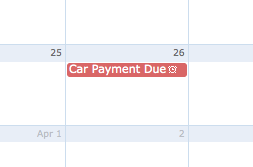 Viola!  You've now setup a reminder in Google Calendar to remind you when to pay your bill!
Update: You can also set up Google Calendar to send you a text message as well.
So far this has worked really great for me. The key to this is to make sure your enter you bill in GCal when you get the bill.  I've used this to remind me about car payments as well as credit card due dates.
How do you keep track of your bill's due dates?
Additional resources to help with your budget and pay bills:
Many online checking accounts offer free online bill pay as part of their banking and you can find similar services through your credit card.