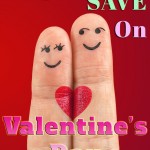 Every year, it seems like we've just gotten over the Christmas expense when another big expense comes—that's right—Valentine's Day.
Valentine's Day has turned into a highly commercialized holiday. In fact, according to the History Channel, "the holiday brings in almost $14 billion annually" (History).
But the history of Valentine's Day is anything but romantic. 
The day has its roots in pagan festivities when an animal was sacrificed and young women were whipped with strips of animal skin to promote their fertility. Later, a 5th century pope turned Valentine's Day into a Christian holiday by making it Saint Valentine's feast day.
Who was Saint Valentine?
A priest who secretly married couples in the 3rd century AD after Emperor Claudius II banned marriage for his soldiers. Saint Valentine was discovered and sentenced to death. He was killed on February 14th, but not before he had written a love note to the jailer's daughter signed, "From your Valentine" (History).
Yet, from this dark history, it's become one of the most commercialized holidays.