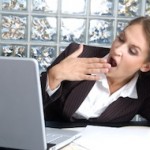 Did you get up today and stumble to the coffee maker to make your coffee because you needed the caffeine to wake up?
Do you have dark circles under your eyes and yawn throughout the day?
If so, you may be part of the growing ranks of Americans who are chronically sleep-deprived.
There are many reasons for sleep deprivation ranging from staying up too late to watch tv, trying to do too many tasks, having children (who are notorious sleep robbers), having an overloaded schedule including working full-time and caring for children and a home, to more serious causes such as insomnia and sleep apnea.
Whatever the cause, chronic lack of sleep can have a high toll on your finances.
We are trained to reward those who push themselves, who stay at the office late, work hard, and short change themselves on sleep every night so they can get more done.
However, this societal norm should change because Americans' lack of sleep has very expensive consequences.
Consider the following financial and physical tolls caused by lack of sleep: