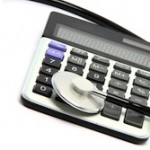 After I graduated from grad school, I paid my teaching dues by working as an adjunct instructor at three different community colleges and working part-time at a social services office. 
The pay for all of the jobs was lousy, and I had no health insurance.
I wasn't brave enough (or stupid enough, depending on your view), to go without health insurance completely.  I paid for a catastrophic insurance policy that was fairly low cost, but would only pay for incidents over $5,000.  I was sick a few times that year, and though I would have liked to have gone to see the doctor, I simply didn't have the money to pay for the entire doctor's visit myself.
Unfortunately, many others are in this same position.
The Health Insurance Crisis
When we think about the health insurance crisis, we often think about those without insurance or those who go bankrupt thanks to outrageous medical bills.
As consumers, what we often fail to see is the flip side can be just as frustrating for doctors.
Continue Reading