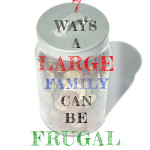 The average American family has 2.1 children (Hoover Institution). 
However, there are many families that exceed that number.
If you look at celebrities, there are families like Brad Pitt and Angelina Jolie who have 6 kids, and you can't forget the Duggars, who make headlines with their 19 children.
Of course, plenty of non-celebrity families have large families.
My son is only in 4th grade, but one of his classmates, who is the oldest in the family, already has 6 younger siblings.  Though large families aren't as common as they were 60 years ago, they still exist.
While all of us need to stretch a buck to some extent, for those with large families, the need is even more important because there are so many mouths to feed and people to clothe and house.
However, there are plenty of ways that large families can save money.
Here Are 7 Ways A Large Family Can Be Frugal