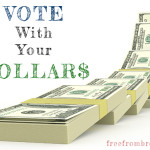 After the recent governmental shut down, you may be feeling increasingly frustrated with our government. 
You may feel that you have no voice in politics and economic decisions.  Of course, you have the right to vote, but much of what the government does is largely out of your hands.
However, you can still take a stand and make your voice heard by voting with your dollars. 
Every day that you spend money, you're making a choice and choosing one company over another, one product over another.
How you spend money is your voice, your vote.
Due to the economic law of supply and demand, if enough people show that they want better or different items, manufacturers will take notice.
For instance, "Making your next car a hybrid shows the automobile industry that you want more eco-friendly, fuel efficient vehicles, which in turn forces them to produce more.  Buying organic foods show that you care about our groundwater and the chemicals you are consuming.  Using reusable grocery bags demonstrates that you don't want millions of plastic bags ending up in our oceans and landfills.  Buying products from corporations who are using methods to improve their environmental footprint helps their bottom line which shows their competition this is something important and forces everyone in their industry to raise the bar" (AG Beat).
How Are You Voting With Your Dollars?