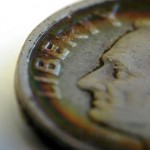 This post is part of the 
TaxACT How I Save
 blog tour which teaches you ways to keep more money in your pocket. Last year, TaxACT saved America over $240 million on tax preparation. How much can you save? To learn more about tips and strategies on saving, 
click here
.
I save my money just like the government does. You can too!
Want to know how?
Read on an you'll see how you can put money aside just like the government. It's a super simple way to get your savings growing and what's great is it requires very little effort on your part.
This is a technique I've been using for years to keep money flowing into my savings account. Are you ready to find out the method?
How to Put Away Savings Like the Government