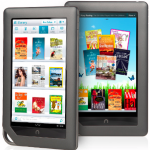 So a couple of weeks ago I splurged and bought an eReader – The Barnes & Noble NOOKcolor. I never thought I'd be one for electronic books but so far I'm loving it!
How Did I Come About Buying an eReader?
I always thought the idea of eReaders were kinda neat but I liked the romanticism of turning the actual pages.  As I said, I never thought I'd get into an eReader.
I had seen the Amazon Kindle, both on the Amazon site and in Staples a few times.  It looked really cool but I couldn't justify the cost.
What changed? I started the school semester, late January, with an economics class.  The professor required us to buy this online package so we could submit our homework online (this was required) and it also included the online edition of the book.  There was no option for just the homework submission.  Not wanting to buy a physical copy (there weren't any used copies of the book out there to get) and not wanting to read it all on my laptop (I sit in from of it all day already) I started to look into eReaders.  Note: I could have also printed out the book but I didn't want to blow up my printer.  Bringing a file to a printing store was also an option too (but I kinda got myself psyched up for an eReader).
Continue Reading