New York City.  The city so nice they named it twice!
Before I show you frugal, cheap, and free things to do and see in New York City let's look at the first paragraph from Wikipedia:
New York City (officially The City of New York) is the largest city in the United States, with its metropolitan area ranking among the largest urban areas in the world. Founded as a commercial trading post by the Dutch in 1625, it served as the capital of the United States from 1785 until 1790, and has been the nation's largest city since 1790. Located on one of the world's finest natural harbors, New York is one of the world's major centers of commerce and finance. New York also exerts global influence in media, education, entertainment, arts, fashion and advertising.  The city is also a major center for international affairs, hosting the headquarters of the United Nations.
Pretty cool, huh?
NYC is made up of five boroughs – Manhattan, Queens, Brooklyn, the Bronx, and Staten Island – though many people mean Manhattan when they say NYC.  All but the Bronx are islands.  I tried to spread the love around the entire city as much as I could but don't be offended if I don't give every borough equal weight.
So here are Frugal And Free Things To Do And See In New York City (in no particular order):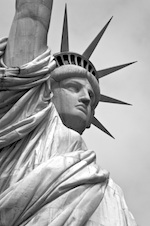 Dedicated to the US by the people of France in 1886 to commemorate the centennial of the signing of the Declaration of Independence, the Statue of Liberty stands on Liberty Island to greet visitors to the US and NYC (immigrants to the US would first pass through nearby Ellis Island before entering the US).  The ferry fee to visit is $12 and $10 for kids under 13.  Nowadays you can only enter the statue up to the pedestal (You used to be able to visit up the statue itself and I remember a time when you could go all the way up to the torch!).  If you ask me $12 is a lot!  A frugal way to get up close is to take the Staten Island Ferry from the Whitehall Terminal in lower Manhattan near Battery Park City.  Fare for the SI ferry – FREE! The SI ferry runs between Manhattan and Staten Island and passes close to the Statue of Liberty.  It's a beautiful ride across the New York harbor with additional views of Ellis Island, NYC skyscrapers, and the Verrazano-Narrows Bridge (One time the longest suspension bridge in the world and also the start of the NYC marathon).

This area, located in lower Manhattan, is home to the New York Stock Exchange, the American Stock Exchange, City Hall Park, Federal Hall National Memorial (where George Washington was sworn in) and is close to Battery Park and the South Street Seaport.  To walk around this area is to truly take in the early history and continuing legacy of NYC!
NYC is home to well over thirty bridges!  But in my opinion the Brooklyn Bridge, connecting Manhattan and Brooklyn, is the most beautiful. 
Having just celebrated it's 125th birthday, the bridge was the largest suspension bridge in the world and the first steel wire suspension bridge when it opened in 1883.  What makes this bridge truly special is the pedestrian/bike pathway in the center of the bridge above the vehicle lanes.  The Manhattan entrance to the bridge is located close to City Hall.  Walk across and see the bridge up close as well as see an amazing view of the East River and NYC!  Feeling adventurous?  Sign up for the NYC Century Bike Tour which crosses the Brooklyn Bridge as part of the 100 mile ride (I've done three of them and they are a great way to see NYC!).
It's hard to think of NYC without imagining the 102 story Empire State
Building (located at Fifth Ave and 34th st).  Completed in 1931,  it was the world's tallest building for more than forty years until the completion of the World Trade Center's North tower.  The building can be seen from all around, from New Jersey to Queens!  The building has an observatory on the 82nd floor ($17.61 fro adults) you can visit as well as one on the 102nd floor (an additional $15).  I can't say it's cheap but the panoramic views of NYC are spectacular (even King Kong had to see the top)!  Other notable buildings to see: Chrysler Building, Flatiron Building, St Patrick's Cathedral, Trinity Church, Woolworth Building
The High Line
So what do you do with an old train freight line that sits above-ground in Manhattan's west side?
Continues After Advertisement
---
---
That's right, you turn it into an awesome walkway and garden!
The High Line runs from West 30th street down along the old line to Ganesvoort Street in the Meatpacking District.  It runs through Hell's Kitchen/Clinton through West Chelsea, and into the Meatpacking District (don't worry, those neighborhoods aren't as scary as they sound!).
Along the way expect to see wonderful gardens, included big lawns to hang out on, art installations, as well as incredible views of NYC, its architecture,  and the areas around it (you can see the Statue of Liberty from one spot).  There is a water spot for the kids to run in barefoot as well as a picture window that hangs over the street to look eastward over the city.
The High Line truly a remarkable place to see when you consider it was all train tracks in the past!
Zoos, Gardens, and Aquarium
NYC is home to the world famous Bronx Zoo, Brooklyn Botanic Garden (Free; check out the cherry trees from late March to mid-May), Central Park Zoo ($8 for adults), Prospect Park Zoo ($6/adult), Queens Zoo ($6/adult), New York Aquarium ($13/adult), Staten Island Zoo ($7/adults), New York Botanical Garden ($6/adults, extra for special events), Queens Botanical Garden (Free), and Staten Island Botanical Garden (Free).
Museums
Are you a museum person?  Do you like American history or do you prefer modern art?  Whatever your tastes there's a museum for you in NYC!  Check out the admission rates if you plan to go to one of the following.  Many are private museums and may be pricier while others may have suggested donations. There also may be free or discounted days at many of the museums. American Museum of Natural History (you remember Night At The Museum, right?, American Museum of the Moving Image, Anne Frank Center, Brooklyn Museum of Art, Center For Jewish History, El Museo Del Barrio,  Guggenheim Museum (the building itself is art), Louis Armstrong House & Archives, Metropolitan Museum of Art, Museum of Modern Art, New York Hall of Science (fun for the kids), Skyscaper Museum, Transit Museum.  There are so many museums in NYC that it's hard to list them all!  Personally I love the dinosaurs at the Museum of Natural History.  The New York Hall of Science is fun too (and it's not far from the Queens zoo and also a great park for the kids)!
Transportation
How do you get around to all of these places in NYC? 
Driving is an option but you have to listen to the traffic reports and know the parking situation where you're going.  You can find taxi cabs all over Manhattan, and that could be good for a short trip, but they can get expensive quickly and they aren't as easy to find in the outer boroughs (not Manhattan).  Another option is to use the city's own transit system, the MTA.  There are tons of buses and trains that can bring you all over NYC.  The out the MTA Trip Planner site.  You put in where you want to go and where you're coming from and it will suggest ways to get there via bus and train!  Oh, the bus or train is only $2.50 (more if you take an express bus)!
Parks
With the millions of people that are in NYC you might think there's no room for parks. 
That would be a wrong assumption!  There are tons of parks in NYC!!  Here are some you might want to check out: Central Park – A biggie, located in Manhattan and home to the Central Park Zoo, Museum of Natural History, Metropolitan Museum of Art and much more; Bryant Park – another Manhattan park, much smaller than Central Park but home to the HBO Summer Film Festival (free movies on the lawn) and Good Morning America Summer Concert Series (free concerts); Flushing Meadows Corona Park – a huge park in Queens which is home to the New York Hall of Science, the US Open, the Mets (Citi Field), Queens Museum of Art, 1,255 acres of athletic fields, and includes many sculptures and building (such as the Unisphere) built for two World's Fairs; Jamaica Bay Wildlife Reserve; Prospect Park; and many smaller neighborhood parks!
Biking/Walking
NYC has built over 100 miles of greenway trails for walking, running, skating and bicycling across the five boroughs.  These are great trails to get out and exercise on!  As well as the greenways NYC also has two mountain bike trails, one each in Highbridge Park, Manhattan and Cunningham Park, Queens.
Sports
NYC is home the the Mets, Yankees, Knicks, Rangers, US Open, NYC Marathon, Brooklyn Cyclones, Giants and Jets (though they play in New Jersey, go figure), Liberty, and the Staten Island Yankees.
For more frugal tickets in a smaller stadium check out the Cyclones and the SI Yankees which are minor league baseball teams.  You can find less expensive tickets for the other teams, just watch out for expenses like food and souvenirs at the stadiums!
We went to a Cyclones game and had a blast!  We started off with a walk along the boardwalk in Coney Island before we went to the game.  That day's game was bat giveaway day.  My son was quite happy to get a full sized Cyclones bat as a souvenir (they have a lot of souvenir nights).  At the game we got to meet two of the Cyclones mascots.  Our littlest even got a autograph on her hat!  Something goes on in between every inning to get the crowd involved, be it a silly race, food eating contest, or launching shirts into the stands.  Really, minor league game is a lot of fun for the family and it costs a fraction of a major league game.
Food and Shopping
Seriously, if you can't find the food or shopping you want in NYC then you really aren't trying at all!  You can find virtually anything you want here!  To dine we have everything from five star restaurants to hot dog carts on the corner.  You can shop for the top designers or check out neighborhood flea markets.
NYC Neighborhoods
NYC has many great areas that you should check out.  Among them: Times Square, Coney Island, Little Italy, Chinatown, Greenwich Village, Park Slope, SoHo, Flushing, and many, many more!
Other Events
There's always something happening somewhere in NYC, it's hard to keep up with it all!  The NYC.gov site lists a good number of events going on. Resources – Here are a few places to further investigate frugal things to see and do in New York City: Time Out New York, NYC.gov, NYC Dept of Parks and Recreation, Village Voice, NY Times, nycgo.com.
If you are traveling to NYC, having a great travel rewards credit card can help you maximize what spending you need to make and potentially give you benefits like free hotels and more.  The key, or course, is to make sure your card is paid off in full every month, otherwise your benefits probably won't exceed the interest you will be paying.
This has got to easily be one of the longest articles I've written. I thought it would be easy since there's so much to do in NYCbut it's really tough trying to pick out the best stuff for you!  To say I left out a lot would be a major understatement.  Truth is there is just too much going on to put it all down in one article.  You can easily spend thousands, if not more, in this city but there's also plenty to do for free!
Enjoy!  Let me know what I left out in the comments!
This article is part of the "Frugal Things To Do In…" series by the Money Life Network.  Check out the rest of the cities featured!
photo credit: wwarby Statue of Liberty, photo credit: lohit Wall Street Bull, photo credit: racreations Brooklyn Bridge, photo credit: ajagendorf25 Empire State Building, photo credit: Stig Nygaard Subway, photo credit: upabreak.com Flushing Meadow Park, photo credit: pwbaker NYC Skyline.