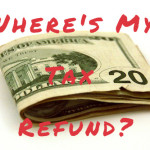 When you are expecting a tax refund, it is normal to file a little bit early.
The very next thing you say once you file is "where's my refund?"  We can't wait to get that money owed to us.
Indeed, many people have already received their tax refunds.
When you get refunded depends on two main factors:
How you filed (mail or e-file)
How you receive your refund (paper check or direct deposit)
If you mail in your tax return, and opt to receive your refund in the form of a check from the United States Treasury, it can take as long as two months or more to see your tax rebate.
This is the combination that takes the longest.
You can speed things up if you decide to e-file when receiving a paper check, or to get your tax refund via direct deposit if you mail in your return.
However, it still might take as much as a month to get your tax refund.
In order to get your tax refund in the shortest possible time, you should e-file and opt for direct deposit.  You can get your tax refund in as little as seven days when you do this.
Continue Reading