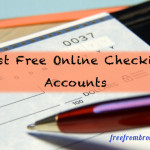 Isn't it annoying when you look at the requirements of checking accounts of many traditional/brick and mortar banks?
They say they have free checking but you have to fulfill a maze of requirements: have a direct deposit with them, have a account balance of at least X for the month, stay under X transactions… It's hard to keep up!
So what options are out there?  Free online checking accounts!
As technology and the internet have grown, companies have stepped up and recreated the wheel, so to speak.  A number of banks have introduced free online checking accounts that are easy to use and full of features.
And because these companies are online and don't have to manage physical bank locations, they can offer their customers more benefits such as higher interest rates, cash back rewards, and free services like bill pay – all nice bonuses in addition to a free online checking account.
Here are some of the best, innovative, and popular free online checking accounts around (including one that I use):
Continue Reading