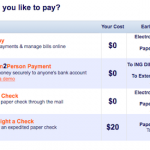 Capital One 360 Checking online checking came through for us and I want to tell you about it.
See, we're having some work done our house.  After a few estimates we settled on one contractor to do the work.  He had a great plan and the price was good.  All he needs is a check for a deposit so he can started ordering supplies and such.
No problem, right?
Ends up we ran out of checks.  Major oops!  We knew we were on the last book and had to re-order but I guess the bills overtook the checks and we ran down our checkbook quicker than we realized.  So we have no checks.
I re-ordered checks of course, but it will take a little while for them to get here.  The contractor is great and told us we can mail him a check as soon as we get a chance.  But the sooner he gets a check the better.  What to do?