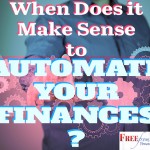 Automating your finances is one way of simplifying your financial life.
When your automate your finances you use your bank, credit card, or service provider's website to set up automatic transactions on your behalf.  You can automate paying your utility bills, paying your credit card, investing your retirement funds, and many other tasks.
Finance automation is often touted as one of the top ten things you should do to improve your finances.
While having your bills paid on time does help you save time and avoid late fees, completely automating your finances is foolish and nearly impossible to do.
How Automating Your Finances Improves Your Finances
Late fees.  Overdraft fees.  High interest rate penalties.  Missed payments.
All of these items are the result of mismanaging your finances.  Missing one payment can result in your interest rate on your credit card going sky high.  Missing the payment due date on any bill will automatically reward you with a late fee on top of what you already owed.
In short, mismanaged finances end up costing you thousands of dollars with all the fees and higher interest rates you pay.
Continue Reading