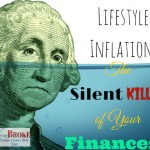 Chances are, you want to make more money.
Most of us think that a higher income would improve matters in our financial lives.
But would more money really be useful to your long-term financial health?
It could potentially help — as long as you don't let lifestyle inflation drain away your excess income.
The reality is that when most people earn more money, they spend more money.  If you aren't careful, lifestyle inflation can destroy all of the benefits that come with a higher income.
You won't get ahead if you don't put that money to good use for your future.
What is Lifestyle Inflation?